Address :
1 University Ave, Bourbonnais, IL 60914
Open to the Public (Free)
CANCELLED Due to COVID 19
Hawkins Centennial Chapel @ Olivet Nazarene University
Andrew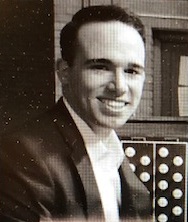 Kreigh, Director of Music and Liturgy
Saint Bernard Catholic Church, Madison, WI
Andrew will be playing the spectacular Fratelli Ruffatti Pipe Organ located at Olivet Nazarene University in Bourbonnais, IL at noon on March 23, 2020.  The 6-division instrument combines 74 pipe ranks (over 4,100 pipes) with 44 Custom Digital Stops from Marshall & Ogletree. 
Andrew recently completed his master's degree in organ performance at the University of Iowa under Dr. Gregory Hand. He holds a Bachelor of Music in music business from the University of Wisconsin Oshkosh. During his time at UW Oshkosh Andrew studied piano performance with dr. Eli Kalman. Andrew supervised and consulted on organ installations at his past churches in Cedar Rapids, Iowa and in Monona, WI (where he selected a Rodgers hybrid organ).  Upon graduation Andrew moved back to Madison, Wisconsin where he accepted his current position of Director of Music and Liturgy at Saint Bernard Catholic Parish. There he oversees a bell choir, adult choir, schola, and plays for all liturgies. In addition to his church work Andrew maintains an active performance schedule as well.
Recent performing engagements consist of several performances at churches and cathedrals throughout the united states including All Saints Cathedral in Albany, New York, the Cathedral of Saint Joseph in Hartford, Connecticut, the Co-Cathedral of the Sacred Heart in Houston, Texas, and the Cathedral of Saint John the Evangelist in Milwaukee, Wisconsin. Andrew has also performed with the Cathedral Choir of Saint John the Evangelist (Milwaukee, Wi) on a tour through Austria and Germany. Upcoming performances for the summer of 2020 include The Basilica of Saint Mary in Minneapolis, Minnesota, The Sinsinawa Mound in southwestern Wisconsin, Olivet University in Illinois, and Holy Name Chapel in Madison, Wisconsin.