Brahms German Requiem
Millennium Park
Friday, July 17 2015, 6:30pm – 8:30pm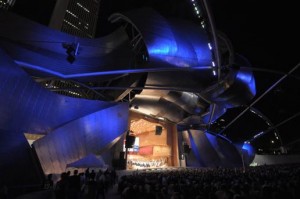 Rising stars Caitlin Lynch and Stephen Hegedus join guest conductor Thierry Fischer for Brahms' lush German Requiem. Schoenberg's musical metamorphosis Transfigured Night opens the program.
Jay Pritzker Pavilion, Millennium Park, Chicago
Pre-Concert Lecture: Friday, July 17, 2015, 5:30pm – 6:15pm Open Rehearsal: Tuesday, July 14, 2015, 3:00pm – 5:30pm
Open Rehearsal: Thursday, July 16, 2015, 10:30am – 1:00pm
Open Rehearsal: Friday, July 17, 2015, 11:00am – 1:30pm
Grant Park Orchestra And Chorus
Thierry Fischer, Guest Conductor
Caitlin Lynch, Soprano
Stephen Hegedus, Bass-Baritone
PROGRAM:
Schoenberg: Transfigured Night
Brahms: A German Requiem
A RODGERS 3-manual, All-Digital Organ will be used for this concert.