Address :
1 University Ave, Bourbonnais, IL 60914
CANCELLED Due to COVID 19
Hawkins Centennial Chapel @ Olivet Nazarene University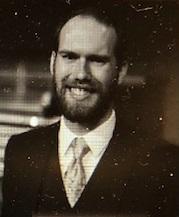 Josh Ring, Professor of Music/Organ
Olivet Nazarene University
Josh will be playing the spectacular Fratelli Ruffatti Pipe Organ located at Olivet Nazarene University in Bourbonnais, IL at noon on March 23, 2020.  The 6-division instrument combines 74 pipe ranks (over 4,100 pipes) with 44 Custom Digital Stops from Marshall & Ogletree. 
Josh is currently a DMA candidate for Organ Performance and Pedagogy at the University of Iowa (UI), where he also earned his Master's of Arts in Organ Performance with a 4.0 GPA. Studying organ with Gregory Hand, Josh has been a recipient of a Rahn and Frawley Organ Fellowship from the UI School of Music since 2017. Josh has performed at the Cologne Cathedral in Germany as well as in the Netherlands, Brazil, and across the Midwest.
Most recently, Josh was a quarter finalist in the 2019 Mikael Tariverdiev International Organ Competition. Josh won the 2019 Organ Scholar Competition at the Immanuel Lutheran Church of Evanston, IL, won first place in the 2018 Young Organists Scholarship Competition from the Fox Valley American Guild of Organists (AGO), is a 2016 recipient of the E. Power Biggs Fellowship Award from the Organ Historical Society (OHS), and has been a recipient of the Kay Hotchkiss Scholarship from the Rockford AGO every year since 2016. Josh has also been featured on the radio program Pipedreams and has performed in masterclasses with such international artists as Olivier Latry, Nathan Laube, Craig Cramer, Stefan Engels, and Wilma Jensen. While a student at Olivet he was also the recipient of the 2012 Walter B. Larsen Award & Naomi Larsen Scholarship, the School of Music's highest honor.
As a recitalist, Josh Ring is an avid supporter of the Appalachian Service Project. Through his music and performances, he raises moneys to support the ASP mission: to make homes warmer, safer, and drier in the Appalachian area for low-income families. More information about ASP can be found at: ASPHome.org.
A recent project includes the 2018 AGO Student Commissioning Project. Josh was selected by the AGO to collaborate with composer Joshua Malavé on a new composition for organ solo. Last year Josh premiered Boricua written by Malavé and performed it numerous times across the Midwest.
Josh's own compositions and arrangements combine classical idioms with popular genres.  His eclectic compositional style is due to his years of experience performing with orchestras, wind symphonies, jazz bands, jazz combos, rock bands, musical theater pits, show choir combos, and various choirs.  He has performed extensively on organ, piano, synthesizer & keyboard, guitar, electric bass, tuba, and bass trombone.
Josh earned his Master's of Music in Composition with David Maki and his Performer's Certificate in Organ with James Russell Brown, both from Northern Illinois University with a 4.0 GPA. He also received his Bachelor's of Music, summa cum laude, from ONU in Music Composition with Karen Ball and Piano Performance with Gerald Anderson. While at Olivet he also studied organ with Timothy Nelson and guitar with Freddie Franken.
His past organ teachers include Melanie Sigafoose, James Russell Brown, and Timothy Nelson, and his piano teachers include JeongSoo Kim, Karen Ball, Gerald Anderson, Ovid Young, and Brenda Conroy. He has also studied composition with David Maki, Ted Hatmaker, Robert Fleisher, and Karen Ball.
On July 27, 2019, Josh married his best friend Abby, a Spanish teacher at Kankakee High School. They enjoy spending time with friends and family, playing board games together, and exploring the outdoors. Josh is a member of the AGO, OHS, and ASCAP. More information, compositions, and recordings can be found at www.JoshRing.com.