Address :
230 N. Sixth, St. Anne, IL 60694
Feast Of St. ANNE ORGAN CONCERT
St. Anne Catholic Church
ORGAN DEDICATION CONCERT this Thursday afternoon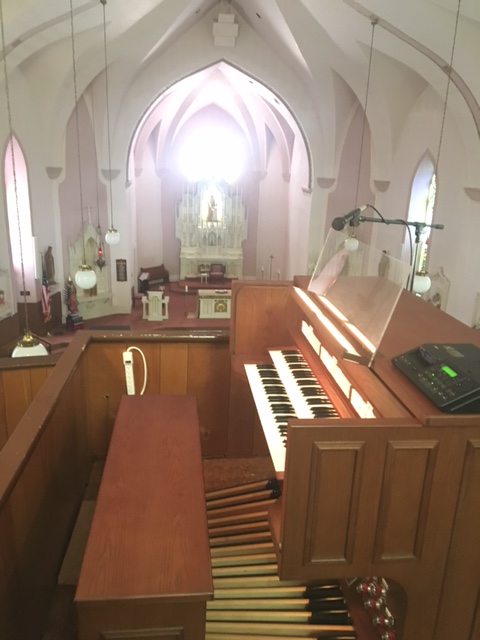 (on the Feast of St. Anne – the 138th Annual Novena in St. Anne, IL)
(just prior to the 2PM Closing Festival Mass)
Kavin Sampson, Organist music director at Asbury UMC, Kankakee, IL
Kavin with be playing the Rodgers 807 All-Digital Organ (donated by the estate of Carl Waldschmidt) which has replaced an Allen model 120 that has been serving the church for some time.
History:
St. Anne Catholic Church was founded by Father Charles Chiniquy, who came here in 1852, accompanied by most of his French-Canadian parishioners from nearby Bourbonnais, IL. The current structure was built in 1872 to replace Father Chiniquy's original log church. The 1872 church is of Gothic design and topped with a bell tower. The church survived a fire in 1893.
The church contains a shrine to St. Anne, established in 1888 to provide parishioners with a counterpart of the shrine at Beaupré, Canada. The shrine is now known throughout the Middle West and several miraculous cures have been reported. St. Anne's Day, July 26th, brings hundreds of visitors to venerate the relic of la bonne Sainte Anne.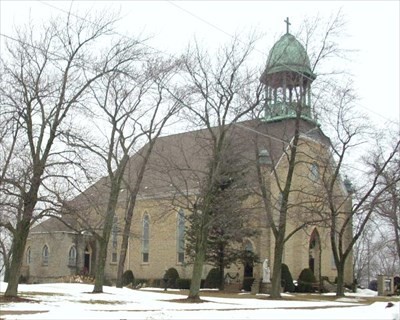 According to Dennis Yohnka, a writer for the Daily-Journal, there used to be a steady flow of stories, tales of miracle cures. They were covered in the Daily Journal, the Chicago Tribune and other newspapers, in the early 1900s. The Catholic church in St. Anne, a village of 1,239, was known then for its display of crutches, even a wheelchair — items left behind when visitors, willing to make this annual nine-day pilgrimage, found the strength to walk again.
It was once estimated more than 4,000 believers would huddle under the tents on the church grounds on the novena's final day, the Feast of St. Anne. They would take part in a solemn procession, reciting the rosary and carrying a statue of St. Anne through town. They would be blessed with the oils and miraculous cures were almost common.
Once again this year, the church's once-stolen relic of St. Anne will be on display.  As Pastor James Fanale and his parishioners prepare for the 138th annual novena, they are aware times have changed. "The trains from Chicago used to stop here. Local folks would let rooms for nine days. Everyone was involved," the pastor explained. "But it's not like that now.
"It's still a very meaningful, prayerful experience, but we don't see people get out of their wheelchairs," he said. "I still believe miracles are taking place, but they're on a more personal level. People might come here with their heart set on a miracle, and, maybe, they will be disappointed, but everyone will leave with something," the pastor said. "Maybe, it will be peace. Maybe, it will be acceptance. Every visitor will leave with something."