Address :
1 University Ave, Bourbonnais, IL 60914
Open to the Public (Free)
CANCELLED Due to COVID 19
Hawkins Centennial Chapel @ Olivet Nazarene University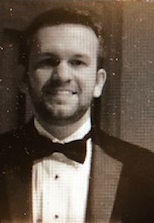 Kevin Edens, Director of Music Ministry,
Christ the King Lutheran Church, Iowa City, Iowa
Kevin will be playing the spectacular Fratelli Ruffatti Pipe Organ located at Olivet Nazarene University in Bourbonnais, IL at noon on March 23, 2020.  The 6-division instrument combines 74 pipe ranks (over 4,100 pipes) with 44 Custom Digital Stops from Marshall & Ogletree. 
"My academic studies of music, specifically of the pipe organ, have confirmed my calling to serve God through the music ministries of the Church. Like many of my colleagues, my involvement with church music began at an early age. Though my job is largely centered on the Church in worship, I do my best work when I am grounded in and supported by the other ministries of the church: mission, discipleship, evangelism, among others."
Kevin began working at Christ the King in November 2018. He has a Bachelor of Music degree in Organ Performance from Furman University in Greenville, South Carolina, and will complete the Master of Arts degree in Organ Performance from the University of Iowa in Spring 2019.  He has been playing the organ in weekly church worship since age eight.