Address :
930 W. Higgins Road, Schaumburg, IL
Music in Worship WORKSHOP
Prince of Peace Lutheran Church
Music in Worship in a Post-Reformation 500 Age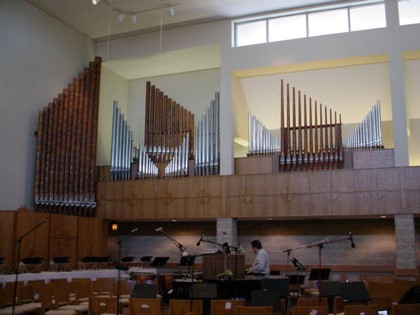 "Renewal & Tradition"
A program sponsored by the:
ASSOCIATION OF LUTHERAN CHURCH MUSICIANS
Program
This event will include morning prayer, workshop sessions, and a hymn festival.
More details will be available soon.  Save the Date!!
For more information CLICK HERE
Scott Uddenberg, Music Director @ Prince Of Peace Lutheran Church
Prince of Peace Lutheran Church houses the 1,000th Rodgers Hybrid organ (1988).  Today there are more than 10,000 Rodgers Pipe Organ around the world.  The photo above shows the beautiful flamed copper pipes of the 16′ Principal, 8′ Principal, & 8′ Gemshorn.