Address :
One University Avenue, Bourbonnais, IL
Piano-Organ Concert at ONU
Centennial Chapel at Olivet Nazarene University
The amazing Piano/Organ Duo team, Jane Holstein & Joel Raney, will appear in concert as part of the  Homecoming Celebration at Olivet Nazarene University.   Jane will be performing on the 4-manual, 6-Division Ruffatti Organ (with digital additions by Marshall & Ogletree) and Joel will be performing on one of the University's Steinway (model D) concert pianos.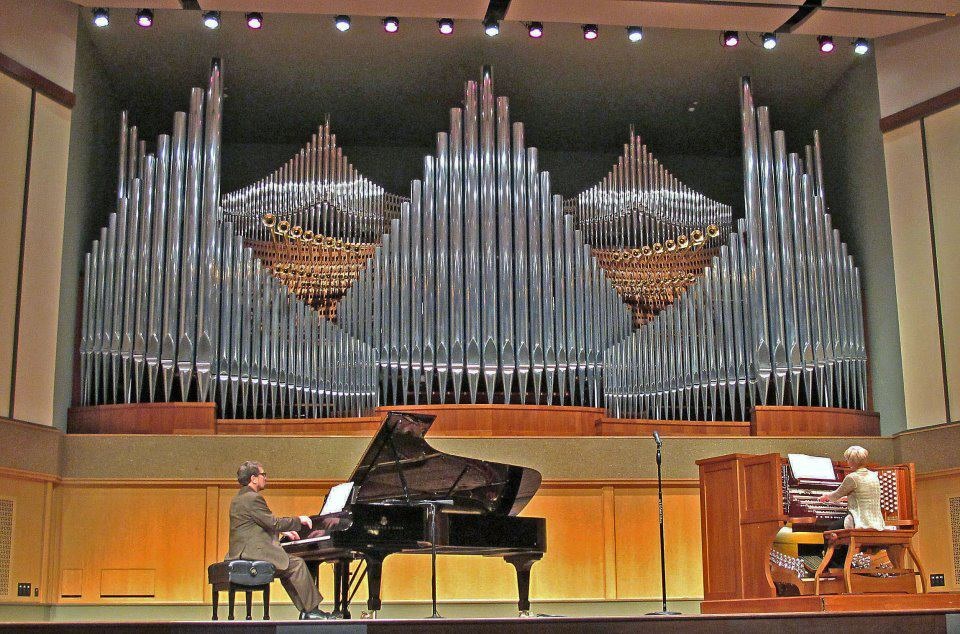 JANE HOLSTEIN (b. 1958) has served as editor with Hope Publishing Company for two decades. She is busy as an arranger, clinician, organist, worship planner, and concert artist, residing in Wheaton, Illinois, with her husband, David L. Weck. Jane is a graduate of Olivet Nazarene University, Kankakee, Illinois, and later received a DM in Organ Performance from Northwestern University, Evanston, Illinois. Besides serving as an editor with Hope, where she directs all of their choral, keyboard and instrumental publications, she is active in church music as organist/choral director as Director of Music Ministries at First Presbyterian Church in River Forest, Illinois. Jane was an integral part of the editorial team that compiled Hope's latest hymnal WORSHIP & REJOICE (2001). Hope has published numerous collections that Jane has compiled and edited including CLASSIC SOLOS FOR FLUTE AND KEYBOARD, EASY ANTHEMS, vol. 1-6, WOMEN IN SONG, vol. 2 & 3, and WORSHIP OPENERS, vol. 1-3. Her latest keyboard compilations include THE ESSENTIAL COLLECTION FOR THE CHURCH PIANIST, and THE ESSENTIAL COLLECTION FOR THE CHURCH ORGANIST, vol. 1 & 2, THE WEDDING ORGANIST, I HAVE HEARD YOU CALLING IN THE NIGHT (piano), and her newest hymn collection entitled HYMNS OF PROMISE (200 hymns and songs). As a gifted concert organist, Jane has joined forces with Joel Raney for a series of duo-concerts featuring the piano and organ in an innovative Keyboard Excursions, exploring a variety of styles in sacred and classical music.
JOEL RANEY (b. 1956) started playing the piano sometime between learning to walk and learning to read. His taste for gospel music began in a rural Baptist church in Alabama, an influence that shows strongly in his work to this day. After completing his degree in choral conducting at the University of North Alabama, he went on to sharpen his keyboard skills, earning a masters degree in piano performance at The Juilliard School.
Since 1999 he has taken the church music scene by storm, with over 200 titles in print, primarily with Hope Publishing where he serves as Editor. His innovative style and inspired arranger's instincts put his numerous choral anthems, musicals and cantatas, handbell compositions, piano solos, and instrumental works at the top of sales charts year after year. In addition to publishing with Hope, Joel's work can be found in the catalogs of Heritage Press, Shawnee, Hal Leonard, Alfred, Fred Bock Music, Jubilate, and AGEHR.
Joel's interest in music of all kinds has led to employment opportunities in everything from classical and jazz performance to pop vocal arranging. He has conducted national tours of Broadway productions, and has been honored for outstanding musical direction of theater in both Chicago and Los Angeles. Since 1988 he has worked as a composer and producer of commercial music in Chicago and has written soundtracks for more than 2000 television and radio commercials, plus numerous scores for short films.
Joel is a sought-after choral and keyboard clinician, and stays busy performing throughout North America as a piano soloist and in duo-concert with organist and fellow Hope Editor, Jane Holstein. They have released a CD recording of organ-piano duets; Kum Ba Yah, and Joel has four solo piano CD's to his credit; An Instrument of Your Peace; This Is My Story, This Is My Song; Overtures of Praise; and Images of Christmas. For more than a decade, Joel was Artist-in-Residence at the First Presbyterian Church of River Forest, Il, and currently serves as Minister of Music at the First Baptist Church of Oak Park, Il. He makes his home in River Forest with wife Susie and their three sons, Charlie, Sawyer and Jesse.