Rodgers Takes Center Stage at CSO Music NOW Concert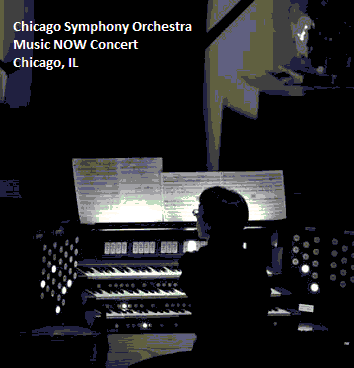 This past Monday evening, the Rodgers Chicago Touring Organ was featured 'center stage' at the Harris Theatre for the Chicago Premier of "Digital Loom" by composer, Mason Bates (left). Digital Loom is a composition which moves in and out of a soundscape which includes a parlor organ with tremolo, distant church bells, and full organ ensembles, grounding listeners in the familiar, with the new. The idea was to combine the sound of an ancient instrument (the Pipe Organ) with the sounds of contemporary dance music (electronica) to see what would result. "Quite a Lot, as it turned out," according to Music Critic, John von Rhein, from the Chicago Tribune.
Bates became familiar with the Rodgers Organ at the Julliard School of Music. He specifically requested the use of a Rodgers Organ for the program as he has had excellent results using Rodgers instruments for performances of Digital Loom around the United States. Fortunately, the 18-channel Rodgers Touring Organ was available for this event. What made the performance even more spectacular was the fact that Bates' "track" (which accompanied the live organ performance) was played through a multi-channel surround system at the Harris Theatre, offering a massive 3-D sound presence in the room. There were pops, bangs, booms, and drum riffs coming from the right, the left, and even the rear of the auditorium. In addition the Rodgers organ (which comes standard with 1/4″ output jacks) was able to play through the house system at a low level spreading the sound beautifully throughout the space. The result was noticeably better than other organs that were amplified by placing microphones in front of the speakers (as is the case at the United Center).
Bates, 33, has this to say about Digital Loom (showing some amazing insight about the organ):
a) pairing an ancient instrument of the church with the sound of modern-day dance music did not seem like a pregnant idea at first.
b) It was the organ's ability to play loud enough to compete with any speaker system that initially was intriguing…. after all, it is the world's oldest synthesizer.
c) the power of the organ lies in its ability to create a space….
d) The Organist, like his modern-day counterpart, the DJ — is simultaneously perceived as background accompaniment to various activities … controlling the choreography within its belly.
Many thanks to Isabelle Demers, the Organist for the event. Her performance was nothing short of dazzling. Isabelle has completed her Master's degree at Julliard and is presently working on her doctorate there with Paul Jacobs.