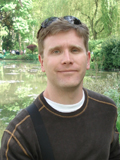 Eric Ringquist
Position: Office Manager
Eric brings a wealth of talent and energy to our office. He previously worked in capital fund-raising for the Delnor Hospital Foundation in Geneva IL. Eric runs the entire office, keeps track of service calls, and tracks orders. When needed, he consults with churches needing fund-raising assistance for their organ projects. Eric is an active member of First Congregational Church in Glen Ellyn.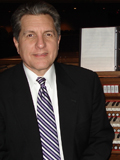 Steven Smith
Position: President
Steve has been the Rodgers Representative in Chicago for 28 years. He has designed/installed 60 pipe organs and over 700 electronic organs during his tenure. Steve served on the Rodgers Executive Panel during the development of Rodgers' Digital Organs in the late 80's. He continues to have input into the design of instruments to meet music ministry needs.
Being an accomplished organist, his gifts are well suited to assist you in purchasing an instrument. He has served as Music Director for very "traditional" churches and also served as the Principal Organist for Elmbrook Church (in a "blended" worship environment)in Wisconsin for seven years. Steve is a Guest Soloist for the Elgin Symphony Orchestra. His diverse musical background is a great asset in consulting with churches of all types with regard to selecting the "right" instrument(s) to meet any worship style.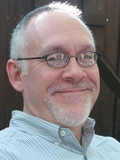 David R. Brackley
Position: Consultant
David brings a wealth of experience to our firm and to all of our clients. David taught organ & music at the college level for 29 years. He has been the organist for several of the most prominent churches in the Chicago area, including Grace Lutheran Church in River Forest. He is an amazing musician and concert organist and has now become a gifted organ voicer as well. He is currently a full-time member of our staff and also serves as Music Director for Holy Trinity Lutheran Church (on Addison) in Chicago.

Mark Mackeben
Position: Installation Manager
Phone: 815-757-4044
Mark has been working for S.B. Smith & Associates / Triune Music since July of 2009.  He is a graduate of Marmion Academy and of Valparaiso University.  Mark has been very involved in all aspects of installing organs and is especially gifted in wiring pipe chests to new solid-state relays. He is currently the Director of Sacred Music at St. John the Baptist Catholic Church in Somonauk, IL and is also a Board Member for the Fox Valley Chapter of the American Guild of Organists. He has been active for years with the AGO Pipe Organ Encounter Program designed to draw young people to the organ.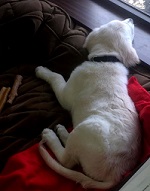 Charlotte
Position: Security
Charlotte Ringquist is the newest addition to our Security Staff and is currently 12 weeks old.  This English Cream Golden Retriever puppy is dearly loved by everyone on staff and also by clients and delivery people that come through our doors. She loves treats and is intrigued with the many geese and ducks returning through Elmhurst to Wisconsin & Canada.