What Are Midwest Folks Saying about the Sound Of Rodgers Today?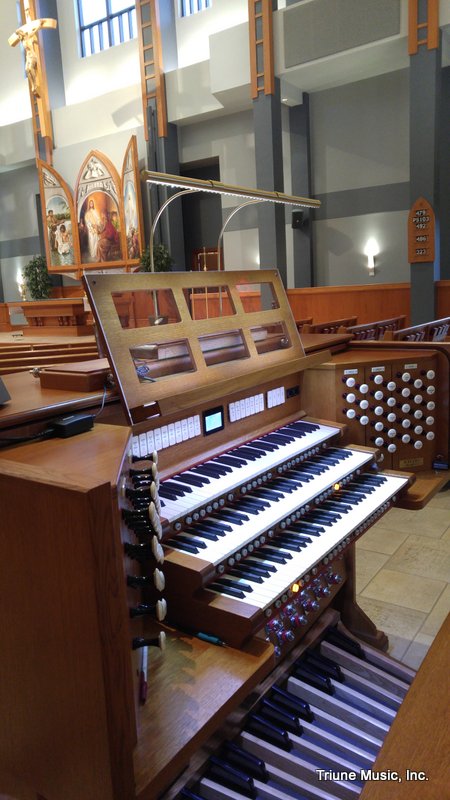 Just prior to Easter (2017), we posted two You Tube videos that were recorded at Faith Lutheran Church in Antioch, Illinois on their new Rodgers Infinity 361.   Here are the links to those YouTube videos:
Following are some of the responses that we have received on our Triune Music Facebook Page:
Trudy Iannarone

"The Faith Lutheran Church in Antioch, IL. has a magnificent American Orchestral Pipe Organ. How beautiful the music."

Jason Snodie

(Music Director of the Church) "The more I explore the string and flute celestes on the organ the more I wonder how I lived without them before."

Glenn Mahnke

"It was good to see the new 361 at St. Paul's Lutheran, Oconomowoc, where I served with a 990 extended for 16 years!"

Gary McWithey

"What a gorgeous sound – lush indeed!"   

Gib Petzke

   "Lots of "slush" Gorgeous sounds."

Tom Merrick Sr.

  "Quality is superb. Thank you for posting. Of course it is all up the organist."

Ron Newman 

"What a truly gorgeous sound!"

Matthew Ray

  "Wow! Those are some awesome string stops. I used to think Allen was the best non-custom digital out there…but I think these new Rodgers Infinity models are actually superior in terms of the sound."

Jean Gorski 

"AWESOME"·

Keith E Anderson, Kathy Adams & Charlene Schulmeister

– "Let me know when/if your organist has a concert for the congregation and I will try to come. I would love to hear this organ (again). Who knows, maybe this Methodist will even show up for a service there :-)"

Larry & Mary Holder 

"This was absolutely beautiful. That song is so appropriate for the Easter season we just celebrated. Thanks for the recording."

Bob Vogler

"Steve Smith is that your arrangement? If you where did it come from/. Beautiful job."

Nancy Hoffman

  "Lovely"

Don Degenhardt

  "I've been a church organist for 46 years and I LOVE RODGERS ORGANS!"

Mark Robert Stumpf 

"Lovely and impressive. Reminds me of the organ at Holy Name Cathedral/Chicago"

Twila Presnell 

"Beautiful."

Jerry Foreman

  "Wow, I love this"

Rodgers Instruments

"Thank you,Triune Music Inc., for your outstanding professionalism and inspirational work!"

Mark Davidson 

"One of the most vibrant acoustical spaces I've ever had the privilege of playing in for 8 years as former organist at Faith Evangelical Lutheran Church and School, Antioch, IL. Congratulations on the addition of this most magnificent instrument!"

Jason Snodie

"This was a great video, not only of the organ, but also of our church. This instrument has been a tremendous blessing to our congregation."

William Bane

  "This just sounds magnificent – the choruses are so clean and warm, the reeds have just the right amount of fire, but not obnoxious. Very worshipful sound!"

Ken Garst 

"Using this piece Easter Sunday!"

Deb Struck 

"What a beautiful video of Faith!"

Dan Schleitwiler

"Beautiful sound…beautiful organ…beautiful church!"

James Nerstheimer 

"They know what it's all about! Nice touch with the -real- Harris drawknobs!"

Rob McWilliam

"Great sounding instrument!"

Dawn Wesenberg

  "Sounds wonderful."

Jaret Schroeder

  "From everything I hear (no pun intended!), Faith Lutheran Church is a profound component of the music history and future of Antioch. If you have never heard their radio station Faith 94.4 FM, tune in next time you roll through Antioch! Hits spanning the past century are played continuously, as well as recorded services of the word, and now I am very excited to hear the newest organ in town!"

Gary McWithey

"Fabulous installation, Steve."
We are so proud of our Rodgers Owners and we are proud to post videos of the work we have done to "inspire" worship.  As you look at other digital firms' web-sites, don't you wonder why they list few (if any) actual installations.  By contrast, we are happy to post testimonials from many owners, even those who purchased organs decades ago.  Knowledge is "power" and we are doing our best to help our clients make truly "INFORMED DECISIONS" about the purchase or renovation of an organ to INSPIRE musicians and worshippers alike.