Rodgers MX-200 Sound Module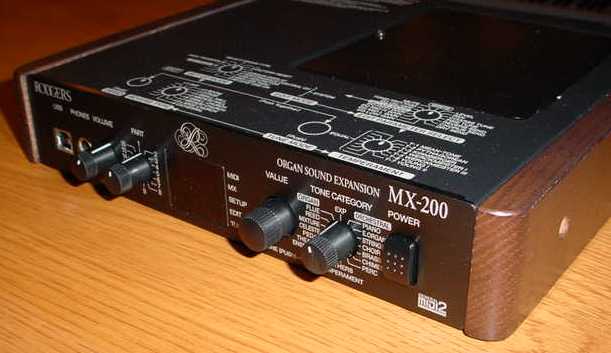 Probably the most highly-sought-after sound module ever made, the Rodgers MX-200.
1,122 total sounds, including 76 Rodgers pipe organ samples!  The MX-200 has many superb orchestral sounds exclusively designed for the MX-200, most of these are Roland's best samples, carefully selected by professional musicians.
The MX-200 receives commands from a Rodgers organ console with no need to actually touch the unit itself.  Controls are also conveniently provided on the MX-200 module. The MX-200 is the perfect choice as the MIDI module for ANY pipe organ or digital organ implemented with standard MIDI.
Price:  $2,400
Call or write for a list of sounds to be emailed to you.
Rodgers 751B Digital Organ
Beautiful Dark Oak Console in like-new condition (on consignment)
Includes Five Speakers (with a dedicated Sub-Woofer
10 General Pistons  / 4 Built-in Memory Levels

(plus memory card storage)

Divided Expression
Automatic Bass & Melody Coupler
MIDI
Tutti
Locking Oak Roll-Top
Transposer
Preparation for Windblown Pipes
$16,000      (Delivery & Installation additional)
Click Here for the 751 Specification
Rodgers 730 Digital Organ
Rodgers 730
38 Stops
Six (6) Audio Channels
4 memory levels / 10 General Pistons & 5 Divisional Pistons
Divided Expression & Crescendo Pedals
MIDI
Transposer / Pipe Compatible
16,500  Console Only  (Delivery & Installation additional)
$25,000 with 6 USED speakers & amps  (Delivery & Installation additional)
Rodgers Masterpiece 788
(Self-Contained Speakers)
2-Manual, Practice / Chapel Organ with AGO Pedalboard
(rare) Self-Contained Speaker System
33 Speaking Stops & 22 Additional Voice Palette Stops
Advanced MIDI system (audio in & out jacks) (offers 6 "live" midi channels)
Stereo Headphone Jack
Dark Oak Console / beautiful Solid-Oak Moldings on the Console & Bench
10 Divisionals and 5 Divisionals
Divided Expression WITH Crescendo Pedal
True Chimes / Can be expanded to 8+ Audio Channels for a large church / Antiphonal Options
$26,500     (Delivery & Installation additional)
Rodgers Exeter 770 Analog Organ (SOLD)
Medium-oak, LED Tab console in good condition.  Includes:
4 speakers
46 Speaking Stops with Swell 16′ & 4′ Couplers
AGO Pedalboard
MIDI
Wood-Core Keyboards with Rosewood Sharps
Divided Expression with Crescendo Pedal
$8,5000   

(Delivery & Installation additional)
Allen ADC-2000 Digital Organ  (SOLD)

2-manual Allen Church / Chapel / Practice Organ
32 Speaking Stops
Divided Expression
2 Channels / 2 Speakers
7 Pistons
Card Reader (with many cards)
AGO Pedalboard
Transposer
$3,500  (OBO)   (Delivery additional)
Rodgers / Roland W-5000

(IS IT a DRAWBAR ORGAN?  a keyboard controller?   a Classic Church organ?)
One of the most unique organs built by a collaborative between Rodgers Organs and the ROLAND corporation.
The organ features:  Classic Pipe Organ samples / Convincing Drawbar Organ Samples / AND many ROLAND orchestral voices.
The organ also has an amazing array of professional audio outputs and mixing controls
There is a 61-note keyboard, a 73-note keyboard, and 25 pedals (all of which are velocity-sensitive)
There are pistons available to store your own keyboard "mixes"
There is also a built-in sequencer.
$12,000  (delivery additional)